The Leo J. Ryan Conference
February 12 - 14, 1999
Beautiful Stamford, Connecticut was the setting for the very first conference from CULTinfo. At the conference they announced their new name, the Leo J. Ryan Foundation.
---
Bob Minton's Speech
February 12, 1999
Bob Minton gave an address on the first evening of the conference which was very warmly received.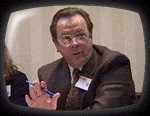 ---
Internet Panel
February 13-14, 1999

Stacy Brooks moderates this panel on the importance of the internet in educating the public about the abusive and deceptive practices of Scientology.
---
---